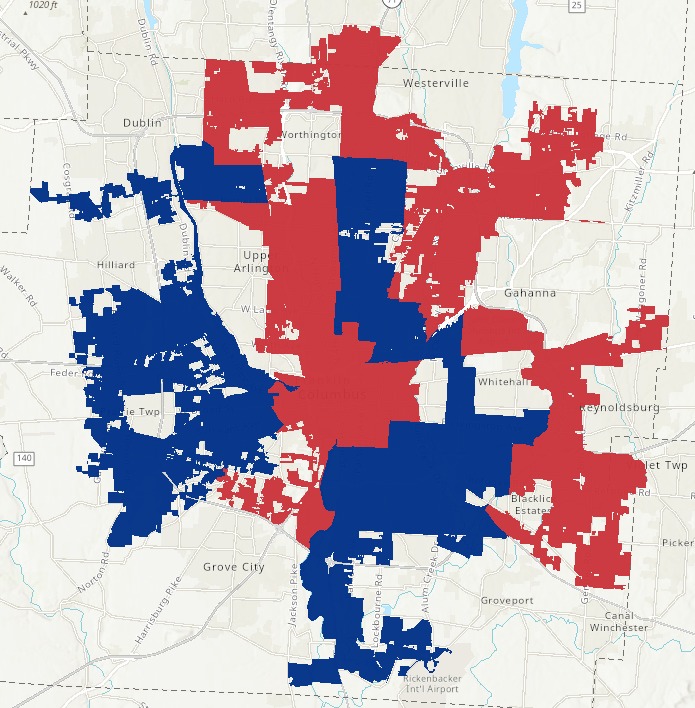 Columbus Districts is a project of The Confluence Cast and Columbus Underground, meant to provide a greater understanding of the transition to Columbus City Council Residential Districts, exhibit the unique nature of each district, and invite civic engagement from all Columbusites.
Frequently Asked Questions
Why did you do this?
With the changes coming to Columbus City Council's structure, we believe that it's important for Columbusites to be aware of both council's new structure and the unique makeup of each district.
Who are you?
The website and information on it were joint efforts of The Confluence Cast and Columbus Underground.
Why is Columbus changing the makeup of the city council?
In 2018, the City of Columbus voted to divide itself into nine districts and increase the number of council members from seven to nine, with each district being represented by one council member. The election in 2023 will be the first time that Columbus voters have the opportunity to vote within this system.
How did you come up with the demographic statistics?
Race and ethnic composition were provided by the City of Columbus website. All other demographic makeup was generated from the American Community Survey (ACS) 2017–2021.
How did you come up with the crime data?
Crime data listed for each district is compiled and normalized against the city at large based on the CrimeRisk database created by Applied Geographic Solutions. From their website:
[CrimeRisk is a] geographically detailed and comprehensive crime assessment database, widely used and trusted by thousands of companies for nearly twenty years. Using advanced statistical methodologies and a rolling seven-year database of FBI and local agency statistics, CrimeRisk provides a highly accurate view of the relative risk of specific crime types for any geographic area, including Census blocks. It is not a database of crime occurrence, but rather, the relative risk of any location compared to the United States in entirety.
The full methodology for this data can be found here.
I found an error! How do I submit a change?
You can suggest a change on any page of the site or here.
You should say more about the Points of Interest in my district.
That's great! Please suggest a change on your district's page or here.
How do I find out what district I live in?
The city has provided an interactive map to identify your city council district based on your address.
Why do you let people suggest names for districts?
We believe that distinct names for districts can provide multiple benefits to its residents, including a sense of belonging, navigation, marketing, cultural significance, and safety and belonging.
What will you do with the names?
We plan to release a curated list of submitted names for residents to vote on.